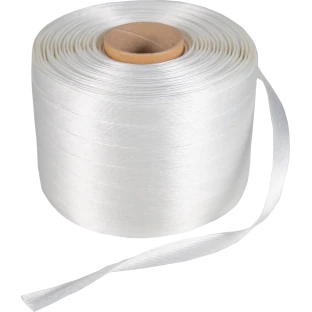 Bale Strap 725kgf 250m WG65
Code: WG6525
Lampero Bale Strap WG65 is a non-woven, textile polyester strap also known as hotmelt strap or PES strap.
Lampero Bale Strap has impressive weathering and chemical resistance as well as 13 % elasticity meaning that it can hold on to the goods it is securing with unparalleled strength while absorbing thermal expansion/contraction and mechanical shocks.

Lampero Bale Strap WG65 is ideal for binding bales foil and other difficult materials usually made using 30-60 ton vertical balers. Bales are usually bound by hand, however the H22 Tensioner and CB6F buckles may be used for retensioning.

The strap is composed of polyester yarn bound with adhesive and is suitable for use in packaging foodstuff or personal care substances, as scheduled by D.M. of 21/03/73.